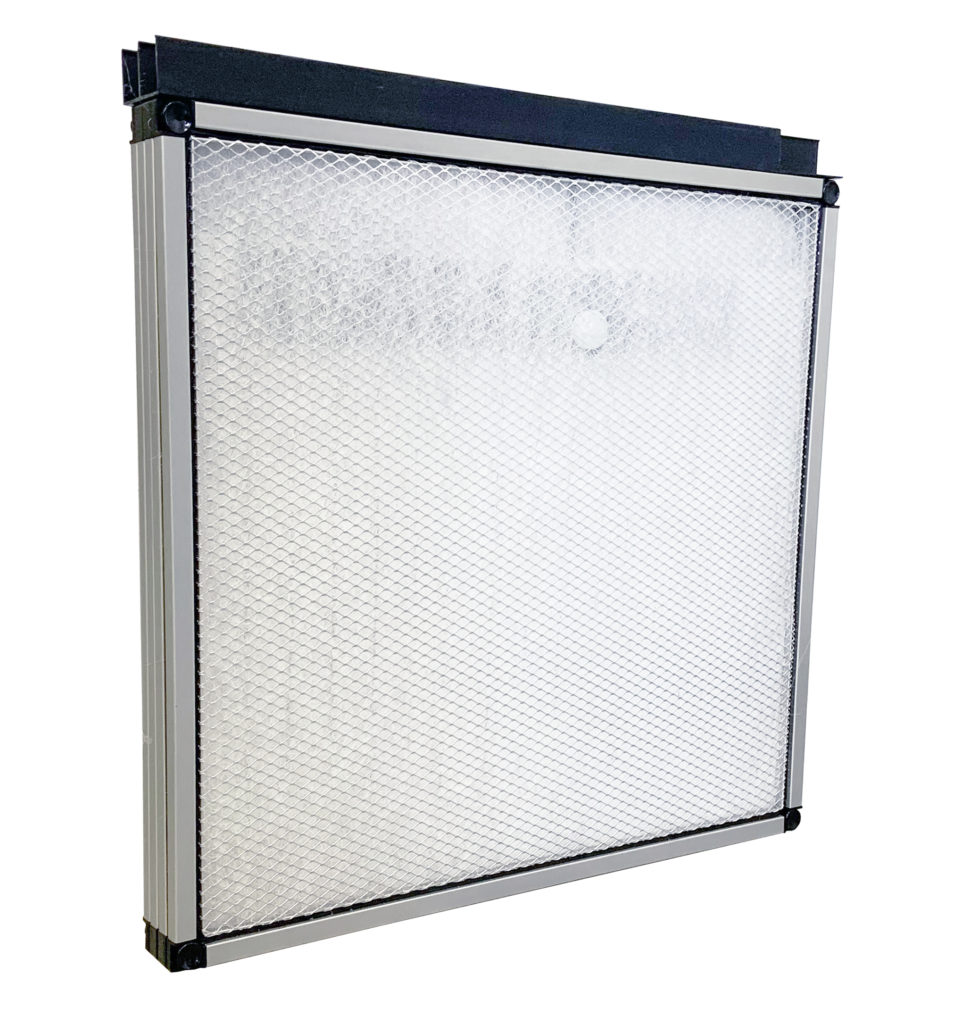 Superior Filtration
The ECOairflow Dynamo 2″ filter is the only generally available commercial grade 2″ electronic air filter certified at MERV 14. It is intended for buildings and geothermal applications demanding superior air quality coupled with low pressure drop.
The patented MERV 14 Dynamo 2″ is a carbon-filament style electronic air cleaner. It is intended for use in applications where airflow face velocity rate is typically 500 FPM or higher. It can be used as a stand-alone product or in combination with other types of filtration products to meet specific application criteria. Patented filtration technology delivers superior filtration results with better resistance to flow than other types of filters. That translates into reduced operating costs.
The Dynamo 2″ filter delivers superior dust holding capabilities and proportionately longer pad life than most 1″ technologies.
How it Works 
The Dynamo 2″ filter uses Electronic Polarization Technology (EPT) to trap airborne contaminates. It can effectively trap particles as small as .001 microns. Many types of particles in this size range can pose serious health risks. Some of the more concerning things the Dynamo 2″ filter can capture include Black Carbon (BC), Traffic Related Air Pollution (TRAP), radon RDP, viruses and bacteria, along with many other pathogens.
Along with things like radon RDP, viruses and bacteria, smoke from forest fires (BC) and TRAP are two areas where Dynamo 2″ filters provides excellent mitigation capability. The EPA along with many other organizations recommend that  any solution to these two issues include air filters capable of performance at MERV 13 or higher. The Dynamo 2″ filter is a cost-effective means of following these recommendations.
Low Pressure Drop
A key concern for energy savings and protection of HVAC equipment is to ensure resistance to airflow is as low as possible. ECOairflow technology was developed to achieve superior filtration using materials with inherently low resistance to airflow. High performance pleated filters achieve their filtration capability by using a tight weave which has a high resistance to airflow. High resistance means that these type of pleated filters must be changed more frequently than the Dynamo filter. They also cost more to operate.
Simple Maintenance
Maintenance is simple. The pads are designed to last almost indefinitely, but when they do need changing doing so is easy. Just open the filter, carefully remove and discard the old pads and then drop in a new one. It's that easy.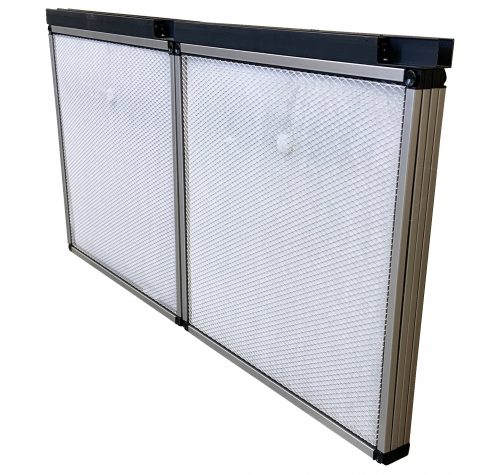 LEED Compliant 
In addition to the MERV 14 rating, the Dynamo filter has other features which add to it's compliance rating. Plastic components, where feasible, include recycled materials. Plastic and metal components of the filter, as well as the glass fiber pads can be recycled as post consumer waste.
Low air resistance coupled with low power consumption means energy consumed within the HVAC system is up to 15% less than with many competitive filters. In a large building, the savings can be considerable.
Specifications  
 

Rating

Pressure Drop To

 

.13 in.w.c. @300 fpm
      .27 in.w.c. @500 fpm
Normal Input Voltage

 

 24 Volts (floating) 

 

Input Voltage Range
 

 18

 V min to 30 V max 

 

Power Consumption

 

 2 watts
Apparent Power
2.0 VA
MERV

 

 MERV 14
Sizes

 

 All industry standard sizes AND custom sizes